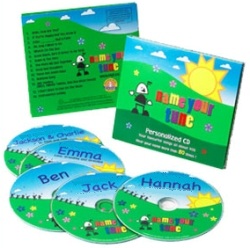 Name Your Tune CDs
Name Your Tune is an exciting children's music compilation that is made-to-order and personalized for each child. Children will hear their name more than 80 times throughout 14 much-loved songs, such as:
· Old MacDonald Had A Farm (which becomes Little Stacy Had A Farm)
· Wheels on the Bus
· If You're Happy and You Know It
Complete 14 Song List and Samples
People Magazine calls Name Your Tune "this year's most coveted item!", Star Magazine highlighted the CD twice as a "hot gift," and NBC's The Today Show calls the CD "Must have baby gear – now that's something to sing about!" Celebrity Moms and Dads who love Name Your Tune CDs include Patrick Dempsey, Brad Pitt and Angelina Jolie, Matt Damon, Jason Priestley, Adam Sandler, Debra Messing, and many more.
*Unless noted otherwise, special promotions only apply for Captain Zoom CDs/MP3s/DVDs.
Need Assistance?
Contact us at 1-800-543-9112 to place your order.
You Might Be Interested In: