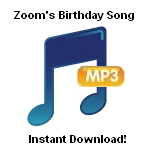 Birthday Song MP3
Instantly download an MP3 directly from your shopping cart to play on an iPod, MP3 player, computer or burn your own CD.
• Captain Zoom® sings the person's name 8 times!
• Over 4,500 names available!
• Spell the person's name any way you like once you download and save the file.
Please download and save the MP3 to your computer immediately after your order is processed.
New Feature - Burn your own Captain Zoom CD. Add the CD Label and Sleeve Kit to your MP3 at the time of purchase for $3.95. You'll receive an official Captain Zoom personalized CD label and protective sleeve. The kit will be sent prepaid by first class mail.
Search Tips: To avoid scrolling, place the cursor in the drop-down list and type the first letter of the name. To order a product, select the name from the drop down list and add to cart. Check the phonetic pronunciation and different spelling options. For example, Anna can sound like "An-uh or Ah-nuh." See instructions below if you can't find a name.
Select Name from Drop-down List:
Can't find a name? Have a different spelling?
Try searching the entire list. The name you are looking for may be under a different spelling. For example, there are many different ways to spell Aubrey. It might be listed as Aubrey, Aubrie, Aubry, etc. You can modify the spelling of any of the names.
If you are still unable to find the person's name, click to order a custom name for $12.00 extra. Please use our A-Z Name List as reference or contact us at 781 426 6297 for assistance.