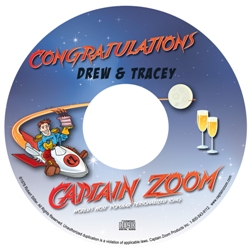 Wedding Song
Sung to the delightful tune of our birthday song, Captain Zoom® toasts the bride and groom but with appropriate lyrics for the wedding. Captain Zoom mentions the bride and groom by name 8 times!
• Add a custom message at the time of purchase
• The full song is 2:20 minutes in length
This novel gift is a delight for the rehearsal dinner or wedding and is a great keepsake for a lifetime of memories.
Also available as an MP3. Click here to order.
Please allow 3 days for the customizing of the wedding song. For special handling or to expedite, please call 781 426 6297.
Need help with your order?
Contact 781 426 6297 for assistance.